Louis-Henri Nicot
( - )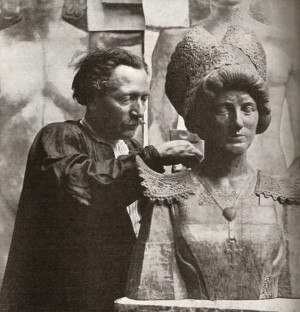 Born in 1878, Louis-Henri Nicot received his artistic education at the Beaux Arts in Rennes with Coquelin, Lenoir, Ronsin and then in Paris with Falguière, Mercié, Peter. During these years of very academic teaching, the artist was frequently honoured. He finished his studies in 1909.
Very quickly the Breton theme appeared in his work. After the First World War, Nicot became one of the major Breton sculptors. From the outset, he was not one of the artists who promoted the greatest modernism. He made many monuments to the dead in Brittany: Pleurtuit 1920, Guéméné-Penfao 1921, Montfort-sur-Meu 1923. But also outside of Brittany, such as the Monument of the Army of Occupation of the Rhine located in Mainz. In 1922, he became a professor at the School of Applied Arts for Industry.
His collaboration with the Manufacture Henriot took place through Mathurin Méheut, a long-time acquaintance, and began in 1924. He created extremely local subjects for them, which played on the permanence of a certain staid image of Brittany, unless it was an ethnographic approach, as the precision of the costumes is so obvious. Thanks to Nicot, Brittany regained its reassuring and very conservative image, which artists, who were more modern, tried to get it to leave through the decorative arts.
Regular exhibitions, numerous busts, steles and commemorative works, a continuous presence at the Salon des Artistes Français (French Artists' Salon), which was rewarded with a gold medal in 1933, and the official recognition of a Chevalier de la Légion d'Honneur title the same year, all contributed to making Louis-Henri Nicot an artist who was both recognised and agreed upon. The artist died in 1944, while preparing the publication of new ceramic works in Quimper.
Products associated with the artist