Jules Noël
( - )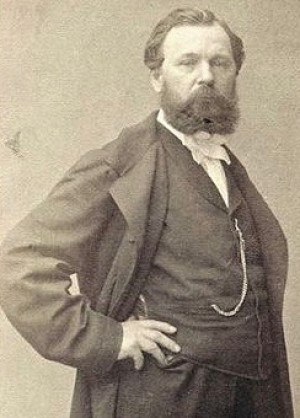 Jules Noël was born to a Breton mother (Plougasnou) and a father from Meurthe-et-Moselle (Sornéville). Although born in Nancy, he spent a large part of his childhood in Finistère (Quimper and then Lennon). He was the sixth of eight children.
It was his father who first introduced him to drawing, then he took lessons with Louis-Gabriel Charrioux, a teacher from Brest, before moving to Paris and the teaching of Jean-Victor Bertin. It was the death of his father in 1835 that made him return to Brittany to teach drawing, first in Saint-Pol-de-Léon, then in Lorient. It was there that he met Adèle Cécile Constance Caris, the daughter of a Lorient bookseller, who became his wife in 1837, and who gave him two daughters. It was from his brother-in-law Eugène Michaux, a naval lieutenant, that he drew his maritime knowledge. It was in Nantes that their first daughter was born and it was also in this city that he was introduced to the Duke of Nemours, which earned him his first commission from the latter and a recommendation to teach drawing at the prestigious Lycée Henri IV in Paris, where he settled in 1845.
From 1840 onwards, he exhibited in almost all the Parisian salons and continued to do so until 1879. During the school holidays, he travelled to Brittany (Auray and Hennebont, the region of his family-in-law, as well as the port towns of Finistère) and Normandy to paint landscapes and seascapes. His reputation continued to grow. In 1849, he received an encouragement prize, and was asked by the Minister of the Interior to copy a painting in the Louvre. In 1867, when his mother died, he signed his name with an upside-down "N", as she did on her paintings. In 1874 his second daughter married the painter Gaston Roullet. Following health and financial problems, in 1877 he decided to join his eldest daughter in Algiers, where he died in 1881.
From sketches taken on the spot, Jules Noël recomposed very lively paintings in his studio, thus mixing his love of landscape with genre scenes accumulating many details. This work of recomposition in the studio often leads him to transform the places according to his mood of the moment. Jules Noël is present in many museums such as Quimper, Brest, Vannes, Lille, Versailles, but also London.
Products associated with the artist