Mathurin Méheut
( - )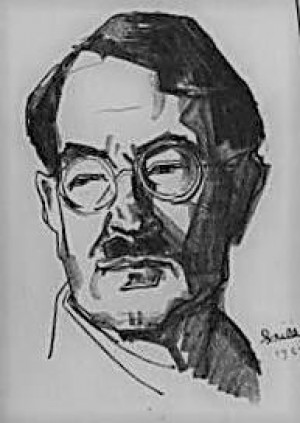 Mathurin Méheut is an artist who no longer needs to be introduced in Brittany, so great is his fame there. And it is a fair return, considering the love he had for this land. In 2013, he was honoured by the Musée de la Marine in Paris, which paid him a vibrant tribute in an exhibition retracing his work as a painter, watercolourist, sculptor and earthenware maker... The exhibition was extended due to its great success.
The son of a Lamballais craftsman, Méheut showed artistic gifts from an early age and graduated brilliantly from the Ecole des Beaux Arts in Rennes at the age of twenty. He then enrolled at the École Nationale des Arts Décoratifs in Paris and attended Eugène Grasset's classes at the École Normale d'Enseignement du Dessin. Very soon, he worked as a decorative painter for the prestigious magazine Art et Décoration. Then he went to the marine biology station in Roscoff to illustrate Étude de la mer, flore et faune de la Manche et de l'Océan. This book, published in 1913, made him famous.
He left for Japan in 1914 with the "Around the World" grant financed by the Albert Kahn Foundation. In Japan, he found confirmation of his iconographic choices, such as the representation of the essential with a minimum of means. His stay was interrupted by the general mobilisation. As a painter fighting on the Artois front and in the Argonne, he drew the daily life of his peers. With his pencil or brush still in his hand, he brought back a quantity of documents on this period.
Demobilised in 1919, he withdrew to the Bigouden region to try and recharge his batteries. For two years, he prepared his second personal exhibition at the Musée des Arts Décoratifs in Paris. He had been thinking about it since his return from Japan. This exhibition had to be as good as his previous one in 1913. The works exhibited reflect his earlier tendencies and others that announce, both in terms of graphics and their themes, the Méheut of the thirties and forties. It is in the second part of the exhibition, devoted to his native land, that Méheut will make the most of his art in order to establish himself as the painter of Brittany.
During the inter-war period, Méheut was at the peak of his career. He was known as a decorator, illustrator and ceramist. In the post-war period, he began a thirty-year collaboration with the Faïenceries Henriot in Quimper, but also with the Manufacture de Sèvres and Villeroy & Boch. The major shipping companies entrusted Méheut with the decoration of their most beautiful liners, ambassadors of a whole art of living. Finally, publishers continued to call upon him as a revealer of Brittany in Paris.
He also had the opportunity to teach in several prestigious schools: first of all, the Ecole Boulle, from 1912 to 1913. Then from 1919 to 1928 and the École Estienne. After an interruption of a few years to devote himself to his career, he had the opportunity to teach again, during the Second World War, from 1941 to 1943, this time in Rennes, at the Ecole des Beaux-Arts where he was a student.
Products associated with the artist