René-Yves Creston
( - )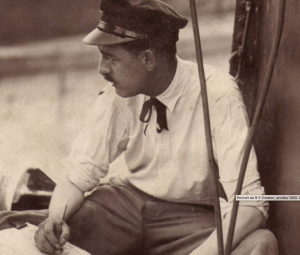 The man's work is immense: painter, ceramist, designer, illustrator, decorator, ethnologist specialising in the maritime world, navigator or simply militant in the service of the emancipation of the Breton people. The strength and originality of this multiform work is closely associated with that of a cohort of artists who founded and led the artistic and social movement "Ar Seiz Breur" (the seven brothers) with him between 1923 and 1947. It marks a before and after of the Decorative Arts in Brittany.
A man of character, Creston did not hesitate to join the Resistance as early as August 1940 within the Musée de l'Homme network and to set up an intelligence group in Saint-Nazaire, whose information was very useful for the preparation of the British raid on 28 October 1942.
He wrote in Breiz Atao and helped with the publication of the art magazines Kornog and Keltia. He switched from woodcuts to watercolours and oils. From 1925, he worked for the Henriot factory in Quimper. Among other things, he created a sculpture of Nominoë and La paludière à la gède. He illustrated the book Kan da Gornog by Youenn Drezen, for which he invented a new typography. The Nazairian left powerful woodcuts to illustrate the masterpiece of his neighbour Alphonse de Chateaubriant "La Brière".
René-Yves Creston led until his last breath, armed with his conviction, his pencils and brushes, a determined fight so that Brittany would not disappear from maps and schoolbooks. As the magazine Le Chasse Marée summed up in an article devoted to him in 1995, "he fought against oblivion with the supreme elegance of those who know how to step aside in front of their subject".
Products associated with the artist