Willem Van Hasselt
( - )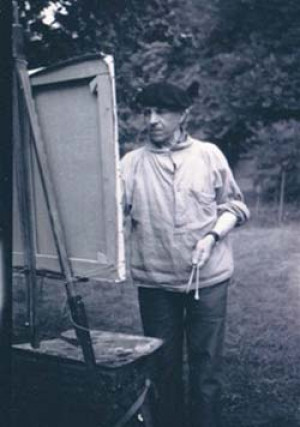 Originally from the Netherlands, he studied at the Royal Academy of Rotterdam, his teachers were Stiening and Van Maardijk.
He began to be known in the Netherlands in 1907, exhibited in London in 1909, in Rotterdam in 1910 and then moved to Paris in 1911. He met Maurice Denis and frequented the circle of Vuillard who influenced his painting.
 From 1913 to 1919, Van Hasselt exhibited at the "Indépendants" in Paris, then, from 1921 onwards at the Druet gallery.
That same year, he married Louise Le Vavasseur, the daughter of a wine merchant in Bordeaux, and had two daughters.
Naturalized French in 1933, he received the gold medal of arts and techniques in Paris in 1937. In 1945 he was elected member of the Institute at the Academy of Fine Arts in Paris. In 1951 he became a member of the committee of the Dutch Institute. That same year, he was made an officer of the Legion of Honor and then an officer of Arts and Letters in 1960. He became a member of the Société Nationale des Beaux Arts in 1961, and later became its vice-president.
He painted many landscapes, from Morbihan to Burgundy. His clear and harmonious representations attract attention by their simplicity and refinement. For Van Hasselt poetry and beauty are everywhere. When he introduces a character into a landscape, he is part of the landscape, he does not pose, he is in nature and creates the moment lived. His technique is forgotten in front of the charm that emerges from his works. There is something instinctive in many of his paintings. They give the impression of having been born without effort. Being a painter was his raison d'être.
Products associated with the artist