René Quillivic
( - )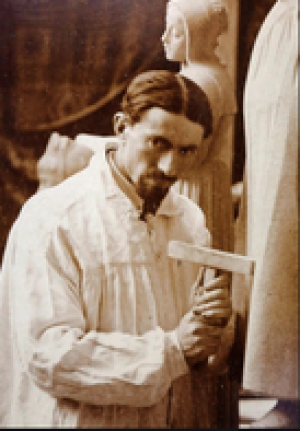 Sculptor, painter, ceramist and engraver, this man has more than one string to his bow.
Quillivic was born in Plouhinec, near the Bay of Audierne, into a family of fishermen. After the death of his brother at sea, he gave up fishing and became a marine carpenter, which allowed him to learn carpentry and woodcarving. The "tour de France" he undertook with the "Compagnons du devoir" took him to the construction site of the 1900 Universal Exhibition in Paris, where he enrolled in the evening classes of the École des Arts Décoratifs. In 1903, he entered the studio of the sculptor Antonin Mercié at the École des Beaux-Arts. His first works exhibited at the Salon des Artistes Français in 1905 and then at the Salon des Indépendants in 1907 testify to his attachment to Brittany and his desire to treat subjects inspired by daily life.
From 1919, he was entrusted with the creation of war memorials. In 1920, he became artistic director at the HB faience factory in Quimper, where he sought to renew the decorations by drawing on the vocabulary of embroidery. His style is marked by the desire to give a modern image of Brittany. In this sense, he tried to combine the precision of the decorative motifs with the stylisation of the forms, sometimes almost geometric.
Products associated with the artist